Swimmingpool and playground keeping your children busy.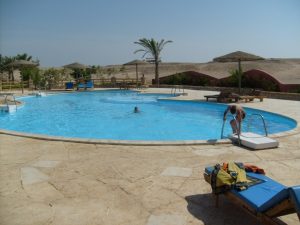 Our beach is well suited for everyone as the water is shallow
and the sandy ground is safe and flat.
Experience NEMO swimming in front of you in the shallow waters of Sharm El Naga.
See the beautiful and fascinating underwater nature and your holiday will be unforgettable.
Snorkeling is truly wonderful, with its untouched environment.
If you are thirsty or hunger strikes, there's a variety of chilled drinks,
sandwiches and other snacks to choose from at the Beach Restaurant & Bar.
Our restaurant is open for you during the following hours:
08 a.m. till 10 a.m. Continental & Oriental Breakfast
12 p.m. till 2.00 p.m. Buffet with BBQ & Grill
08 p.m. till 10 p.m. Dinner with set menu